Success
5 Success Tips from Jim Rohn's Motivational Quote
"Success is neither magical nor mysterious. Success is the natural consequence of consistently applying the basic fundamentals." ~Jim Rohn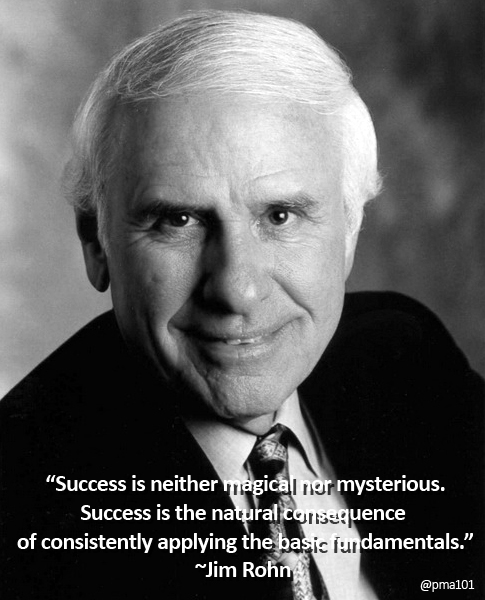 This is such a powerful and inspirational quote. If we want to create success in our lives, we simply have to follow some basic fundamentals.
1. Determine what you want to do.
2. Understand why you really want to accomplish your goal.
3. Find a mentor or someone else who has been successful in this same endeavor.
4. Become an expert in this field by reading and practicing.
5. Consistently put forth effort by mastering the basics.
Studies prove that willpower is key when overcoming obstacles that block our paths to success. We have to focus on our goal and align ourselves with people who will be instrumental in helping us to achieve personal success.
Reading motivational quotes and books is a much better alternative to watching television. You can program your subconscious mind from negative to positive simply by repeating positive affirmations.
Start living your true purpose in life while earning respect and the income you desire. Once you achieve success, add value to the lives of others by teaching them what you've learned.
To your success!
Barry
Follow PMA101 on Twitter: https://twitter.com/pma101
Like PMA101 on Facebook: https://www.facebook.com/pma101
Barry Page is a recognized author and publisher of multiple blogs, websites and videos. He is a leading expert on private banking and a Registered Financial Consultant. He specializes in showing families how to increase their happiness, health and prosperity. His business is based in Ocean Springs, Mississippi and he services clients throughout the country.